The ADAptive Sill System: Unprecedented Performance + Simpler Assembly, Fewer SKUs
Fight infiltration and service calls with the first water-rated ADA-compliant sill.
As multi-family projects are on the rise, so are the use of ADA-compliant door sills. Current ADA-compliant options may help provide a compliant solution (as outlined by the Americans with Disabilities Act)… but they are also all but guaranteed to leak. Beyond that, current offerings provide little to no versatility in the shop. Until now. It's time to expect more from an ADA-compliant sill portfolio… and actually get it with the ADAptive Sill System
Unprecedented, DP-Rated Performance. Tired of service calls or door replacement due to leaking ADA-compliant sills? ADAptive addresses infiltration at its most common sources with (i) an innovative jamb boot that supports a weathertight seal and secure corner assembly; and (ii) a full-length caulking strip. ADAptive Sills have achieved up to DP-35 water performance on ADAptive inswing door systems, becoming the first-ever water-rated ADA-compliant sill system on the market.
Simpler Assembly, Fewer SKUs: The ADAptive Sill System covers needs for all applications with fewer SKUs, steps and hassles. In addition to a large base portfolio, ADAptive provides options that can adapt to multiple functions, including reversible jamb and mull boots, a modular single-base design that works with interchangeable standard, tileback and sidelite caps, sill extender compatibility and more.
Plus – Aftermarket Options to Cover Even More Needs (Not ADA Compliant): ADAptive offers an aftermarket cap that features a flexible sealing bulb which forms a weathertight seal against the door bottom, as well as a bumper outswing cap that provides the functionality of an outswing bumper sill. Note: These options exceed height restrictions and are not ADA-compliant.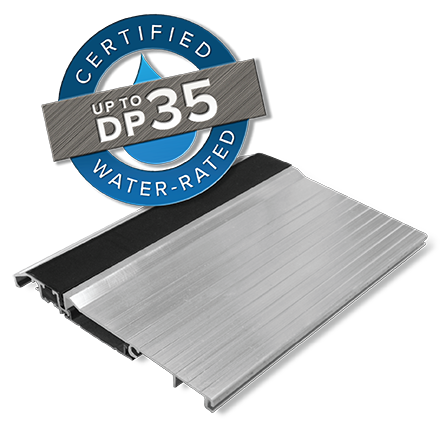 Additional ADA-Compliant Sill Options:
Endura offers additional ADA Compliant sill options that meet compliance needs and provide a range of options.
All-Aluminum Construction: Durable material provides performance you can count on
Innovative and Compliant Sealing: Provides a consistent seal without compromising accessibility
Variety of Options and Applications.

Contact us today to learn more about Endura's full offering and determine the best solution for your project needs. Click Here.