Exterior Door Frames
Endura Products takes great pride in our exterior door frame offering. From solid wood frames and components, to our builder-trusted, rot-proof FrameSaver® door frame solutions, we have a frame for every application, including jambs, mulls, and brickmould. Every frame is crafted with strength and endurance in mind.  All frames and components are finger-jointed with no knots or gouges in the wood, so you're guaranteed an excellent product.
All of our frames feature our 180-day primer, which gives you terrific coverage, and an extra 180 days before a finish coating is required.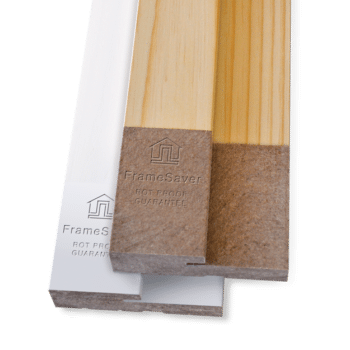 ROT PROOF. FOR LIFE.
THERE'S NO SUBSTITUTE FOR FRAMESAVER.
There is a reason builders and remodelers have trusted FrameSaver for over 15 years, and it's the same reason we've never had a warranty claim. FrameSaver is the original rot-proof wood door frame solution that's backed by a fully-transferable lifetime limited warranty – though you won't need it. With its proven record of quality, durability and performance, nothing beats the original FrameSaver.
FRAMESAVER NEVER ABSORBS WATER, ROTS, CRACKS OR WARPS.
BACKED BY THE INDUSTRY'S ONLY FULLY-TRANSFERABLE LIFETIME WARRANTY.
COMPOSITE BOTTOM FINISHES AND PAINTS JUST LIKE WOOD.
FINGER-JOINTED CONSTRUCTION ENHANCES STRUCTURAL INTEGRITY OF THE FRAME.
Get FrameSaver Now
Would You Like More Information?
Please fill out the form below.